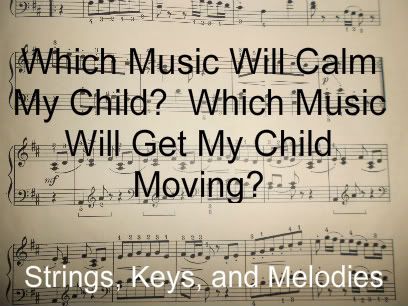 Music has the ability to change our feelings and behaviors.
Slow, soft music can make us feel calm and relaxed.
While fast music with a lot of rhythm can make us feel energized and get us dancing.
Parents have asked me to suggest music for their child to listen to while falling asleep or to get them moving.
We all know each person is made up of body, mind and spirit.
Did you know that music is made of three components that match those parts?
The three parts of music are rhythm, melody, and harmony.
Rhythm
affects our body and stimulates our arms and legs.
Percussion is the group in the orchestra that provides rhythm.
Percussion instruments include the drums, cymbals and shakers.
Melody
affects our mind and stimulates our head.
The woodwind instruments, such as the flute, clarinet, and oboe provide melody.
Harmony
affects our spirit and touches our hearts.
The string instruments provide the harmony in the orchestra.
Violin, viola and cello are string instruments.
The goal is to select music to stimulate or calm the body, mind and spirit in order to create balance.
Not everyone will react the same way to a piece of music.
So I can suggest pieces to play for your child but you will have to see her reaction to it to determine if it is right for her.
Most of these suggestions are classical music and that is because classical music usually contains all three parts:
rhythm, melody and harmony that is necessary for balance.
Stimulating Music
Children who are lethargic or have weak limbs need to be stimulated with
rhythm
.
They need rhythmic percussion to invigorate them.
For children with weak muscles and limbs and to energize sleepy bodies play stimulating music with the volume slightly louder than usual.
"Bolero" by Ravel-orchestra
"Mephisto Waltz" by Liszt – piano
"Stars and Stripes Forever" by Sousa-marching band
"German Dance" by Mozart- orchestra
"The Toy Symphony" by Leopold Mozart-orchestra with horn and glockenspiel calling out "cuckoo"
Calming Music
Hyperactive children can be calmed by playing music with more
melody
and
harmony
and less rhythm and percussion.
Instead of being physically and mentally active she will be relaxed and soothed.
"Romeo and Juliet" by Tchaikovsky-symphony orchestra
"Carmen Suite" Nos. 1-2 by Bizet – orchestra with a lot of wind instruments
"Andantino from the Flute Quartet in C Major" by Mozart-orchestra with a lot of flutes
Music for Anxiety
Anxious children respond well to music that has pronounced rhythm and melody
Waltzes by Strauss- orchestra
Anything by Mozart but you can start with the "Adagio from the Divertimento in B Flat (K. 287)" The Italian word adagio means "to put at ease".
Music for Chronically Ill
Soft music is wonderful for chronically ill children
"La Mer" by Debussy-orchestra
"Andantino from the Flute Quartet in C Major (K.171)" by Mozart-orchestra
Music for Emotionally Sensitive Children
Children who are emotionally sensitive need a lot of harmony in music.
"Jupiter Symphony" by Mozart-orchestra
My Favorite Sleeping Music.
Classical music has a calming effect that helps children fall asleep.
Some studies also show playing classical music as children are falling asleep and waking up can reduce the incidences of seizures since episodes frequently occur just before or after falling asleep and soon after awakening.
My girls' favorite nighttime music is "Classical Naptime for Tots".
It has a variety of classics from Bach, Debussy, Beethoven and Puccini
They also love Jewel's Lullaby CD from Fisher Price
My Favorite Stimulating Music
"Jazz for Kids" is a favorite to play while using all kinds of rhythm instruments like sticks, bells and maracas.
It features Jazz greats such as Ella Fitzgerald and Louis Armstrong singing child friendly jazz songs.
"First Steps in Classical Music:
Keeping the Beat!" is a favorite full of classical pieces to play with rhythm instruments.
Everyone has different musical preferences. Try these suggestions and see how your family responds.
If the song doesn't work for you and your child then skip it and move on to another piece.
In order to save costs, you can find most of these songs on You Tube and these CD's at the local library.